Xi'an is an Important City in China.  Here are the opening lines from the Wikipedia entry:
"One of the oldest cities in China, with more than 6,000 years of history, the city was known as Chang'an before the Ming dynasty.   Xi'an is one of the Four Great Ancient Capitals of China, having held the position under several of the most important dynasties in Chinese history, including Zhou, Qin, Han, Sui, and Tang.   Xi'an is the starting point of the Silk Road and home to the Terracotta Army of Emperor Qin Shi Huang."
Most of you have heard of it because it's where thousands of terra cotta soldiers were buried with the China's first emperor in 300 BCE, that guy Qin.   I'm including just a few pictures of the chalky soldiers that greeted us with stony expressions, since you can get all you need with a search here.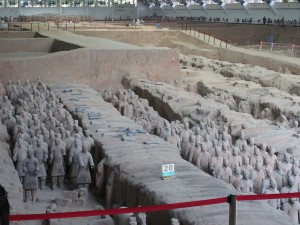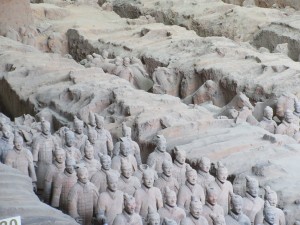 But Xi'an is much more than these dusty relics of a past megalomaniac's vain vision.   In nearby Yan'an live a people who have dwelled for millennia in caves carved out of  mountains – and still live in them – although the family we visited also had a house in front of their cave.  The mom (pictured below on a nifty tractor) preferred to live in the cave while her daughter-in-law and grandchildren preferred to live in the house.  Her son was away working in a coastal city, and her husband passed away.  They make their money showing off their home to our tour agency, as well as growing and selling persimmons.  ALSO featured below.
Xi'an is also known for it's culture, and so we saw a wonderful show featuring music, dance and theater of the Tang Period at the – surprise! – Tang Palace Theater.  This is something I really wanted to see. I know it's touristy, but I like music and theater and wanted to see traditional forms of it.  Not just the ubiquitous K-Pop like genres.  This was a dinner theater, retail price about $70 per person, although I'm sure our tour agency got a smoking' hot deal.  The food was dim sum, which was tasty.  However, the highlight of the evening (aside from the show) was our grumpy, sullen server who went to no lengths at all to hide her displeasure at, we never found out.   She looked on our table with dripping disdain, and it became a Thing for us to see how grumpy she would get.  No tip for her!
Our penultimate stop in Xi'an was the Great Wild Goose Pagoda, originally built in 652 to house the original Buddhist texts and statues that Xuanzang (remember him?  Devout, spoke softly, but could whip your butt and take your money in chess.) brought with him from India.
Pictures of Pagoda – forthcoming!
Our final stop in Xi'an was the Muslim Street, where the oldest mosque in China hid amidst the warren of tiny alleys, streets and walkways, filled with every conceivable product or food.  I bought a pair of fake Beat headphones for $3.  Score!   And there were lots of these knock offs around.  Walking through this section of town was intense  – sometimes dark, continually noisy with yells, honking and sizzling from the grills.   I loved it!
Pictures of Muslim Street – forthcoming!