First up…Tiananmen Square! the largest public square in the world, capable of holding a million, Chairman Mao's Mausoleum, the Monument to the People's Heroes, and the Great Hall of the People – home of the National People's Congress, flank the Square. Walk through the Gate of Heavenly Peace, under the famed portrait of Chairman Mao.
So let me start this off with my impressions.   There's plenty of, and most certainly more accurate, information about this part of Beijing online. So I won't try to add too much to that stuff. Instead, I'll just provide my impressions about things I'm pretty sure you don't know about. Garrison Keillor has a great insight into telling stories about people and events that readers have not experienced: it gives the story teller some latitude with the truth, which is a helpful thing for a story teller.
Tiananmen has been a very important place in Chinese history , not the least of which for me was the 1989 protests when perhaps hundreds of civilians and 50-60 policement were killed. So I took a moment to just stand there, looking at Mao's portrait before me, Mao's mausoleum behind me, the People's Congress Hall, home of the Communist Party, to the left and the Forbidden City ahead of me. One thing I do when I visit a place that has been important to human history (Machu Picchu, Dachau, Anne Frank's home in Amsterdam, Boston, the Portland ME air terminal where several of the 9/11 terrorists took off from, Hiroshima, the DMZ in Korea, even Angel Island), is turn on whatever senses I have to feel the place. To imagine being in that space when the events happened.  It's kinda weird, I suppose (maybe I've been living in California too long), and whether it's real or just psychological projections, I usually can tap into an emotion of the place. What I tapped into in Tiananmen was surprising, since I was expecting something about the 1989 uprising.  Instead I had a feeling of the movement of immense history, standing in front of the Forbidden City, where Emperors had lived and ruled since the 1400s.  This place has a history of thousands of years, even before the Forbidden City was built.
Part of my curiosity in doing this is to have a feeling.  Feeling a part of the flow of humanity and history, feeling an extension of those that have come before me and connected, somehow, to the generations that will follow me.  At some level, there is nothing more to come from that feeling, it's just to have it.  I like to imagine myself belonging to that flow.   Another part of my curiosity in doing this is to learn from it, and notice where I get inspiration from it.  And then apply what I learn.  For example, standing in the quiet of Anne Frank's room, I noticed a new insight into the fear of a child from horrific forces beyond her control.  And that let me understand my own fears better, and with that understanding I can let them go, rather than take me over.   Standing in the rain in Machu Picchu, I noticed a new insight into how I relate to the earth, as I felt and thought about how the Inca related to the earth in that very space and air.  And that lets me understand what I can do for the earth, which in my case inspired me to approach my work with double bottom line businesses more passionately.  So being in a place, reflecting on what went on there moments, decades, centuries, even millennia before, even connecting to it in some tangible way, is something I've found great value in doing.  Tiananmen, this time, makes me understand how unique and astonishing it is for me to live with such personal freedom, a freedom that millions before me never could imagine due to caste or social systems that they were simply born into.  I can already feel that insight changing the way I think about how to "use" that freedom to make my contribution to this world as I make this journey.  (Stay tuned!!)
Anyway. Another thing that I noticed on Tiananmen was the novelty of the blonde haired kids in our tour group!  It was our group's first experience with "paparazzi", where Chinese families would shove their kids into a picture with our kids, and sometimes me and the other parents, for some reason.   This happened again and again throughout our stay in China, no matter where we were.  We should have charged.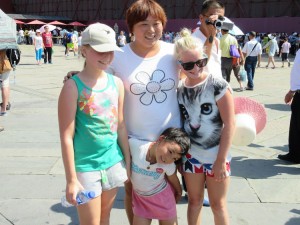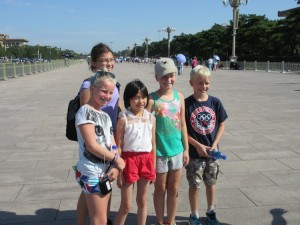 Michelle, my friend who joined me for this trip, is an attractive blonde, and she got a LOT of attention from Chinese men, who would just look her up and down with no shame, didn't even try to hide it. She handled it very well, I thought, basically ignoring them. I learned to use this to my advantage. I found that interesting people didn't mind me taking pictures of them, as long as they could look at Michelle. Worked for me! Thanks, Michelle!
There are so many shots and stories about the Forbidden City on the web, that I won't go into those. Here are a few shots I took, and like, though.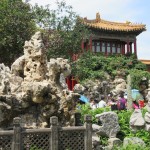 Our next Beijing adventure was a bicycle rickshaw ride through the Hutong  just west of the Forbidden City, along Zhong Hai (lake).  Our rickshaw driver was a hoot! He wore a faux straw hat with Ronaldhino on it, after the Brazilian footballer. He drew Michelle and me from our tour group (all small slender people), looked at me, shook his head and held his hands out in a circle in front of his belly. He wasn't too pleased with my weight. But I told him to suck it up, in English, which he may or may not have understood literally, but he got the idea so Michelle and I mounted the rickshaw and he took off after the rest of the rickshaws hauling our group around.
Several things about the rickshaw trip are worth reporting. Hutong means "narrow streets". And these were indeed narrow streets, but filled to the gills with virtually every type of conveyance you can imagine. Cars, trucks, rickshaws, electric scooters, bicycles, bicycle "trucks", and pedestrians all vied for the precious ephemeral vector provided them.
At first I was impressed with the fact that no one gets in accidents with such seemingly chaotic driving and maneuvering.   Just then a slight, bent over woman, at least 145 years old, tottered towards our path and instead of slowing down, our driver rang his little bell, yelled and kept moving. She looked up and stopped…half a second before we would have plowed her over. No apologies, no cursing. She just pulled up, let us pass less than an inch in front of her aged self, and….the craziness continued.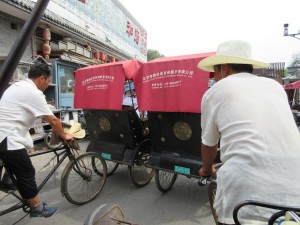 And then we crashed. Into another rickshaw whose driver had the same attitude as ours did regarding oncoming traffic. It was a fairly violent crash, as much as rickshaw crashes can be violent. We struck amidships, our canopy was jerked back hard, the sun was again bearing down on us, and we were unhurt. But the metal frame was severely bent, strong metal bands rippled along their length.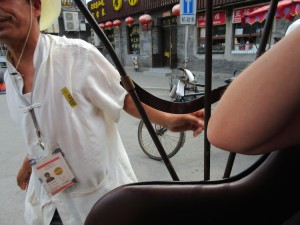 Our driver actually stopped this time, and came around to the side of the impact, muttering something I can only assume was Chinese cussing. But the way he looked at us, a disgusted, scowling glance through the sides of his eyes, made me think that he held us accountable for at least part of this annoyance. I, of course, as a stupid tourist, smiled at him and said "You crashed!". I don't know if he understood me or not, or wanted to, but he grunted, grabbed the canopy and – with his bare hands – bent the heavy metal frame back into relative straightness. He looked at me again, with continued disgust, walked back to his seat, scowled over his shoulder AGAIN at me, and drove off.   I should say, at this point, that despite all the apparent grumpiness of our man, he had a twinkle in his eye throughout. So I never felt threatened, or at risk of being tossed into the lake.  I think he was having fun playing the Grumpy Old Rickshaw Driver.
We had no more incidents on our way to our destination; lunch in a traditional Beijing courtyard home. Homes in the Hutong were clustered around a common courtyard, maybe 8-10 homes per cluster. Sometimes different families lived in them, sometimes extended families lived within a cluster. In extremely tight space, with little space between homes, people lived, cooked, grew vegetables and fruits, hung cages with song birds in them, stored scooters and barrels full of who knows what, and probably snored, yelled and blew their nose too (lots of loud nose blowing here).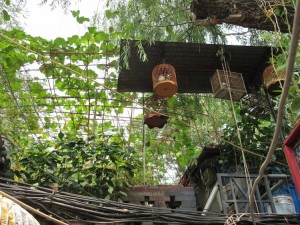 Our hostess for lunch was one Mrs. Fang. A widow whose children moved away, she makes money, in addition to her pension, by providing lunch for tours like ours, in her home. On a day she is hosting such a group, she goes to the market very early, picks out the food, comes home and prepares it for a 1pm meal. Then cleans it all up. And, judging by the ginormous portions and number of dishes, manages to use the left overs for herself…for the next week or so.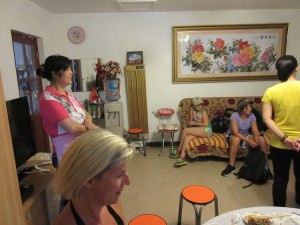 Her house was "typical", whatever that means. But one thing I have to say at this point is the impact that the 2008 Beijing Olympics had on ALL of Beijing. Evidently, before 2007, houses like these were not that great. Now they are still small and simple, but they have been renovated: fixed walls, fresh paint, room A/C, internet service, new plumbing.   And this apparently has happened throughout Beijing, and more recently has continued in other parts of the country. More about the impact of the Olympics later, but the House of Mrs. Fang was very nice. Spartan by most US standards, but…hey!..she has wifi!
After thanking Mrs. Fang, we ventured back to Our Man in the rickshaw, who seemed to be in a better mood. Although he again rolled his eyes after I told him I had just had a big meal and was heavier. (I think he understood more English than he let on.) We hopped into our chariot of fatigued metal and drove on, basically retracing our route to the rickshaw stand out side the Forbidden City. Michelle and I decided that a tip was in order, despite the country tradition of no tips. I mean, we had clearly subjected Our Man to an unreasonably traumatic experience that his weary and sore thighs would keep reminding him of for days to come. At least that's what we read into his eyes, smiling though they were.   So at the end, we hopped out (well, Michelle hopped, I more lugubriously lumbered) handed him some yuan (6 yuan to 1 US$) and he smiled, thanked us, rolled his eyes again and turned back to his rickshaw stand.
Next….More Beijing!  Sultry Summer Palace!  Wet Ming Tombs!