What I Did
What I Did – Just The Facts
As I write this blog, I want to avoid droning on and on about what I did, what it looked like, etc.   Some of you care, but most of you….yawn.   So I'll keep my regular blog posts to more interpretative stories, but I dedicate this page to just a list of what I did every day, with very little commentary. If you see something you want more info about, ask!  I'll also do some of this on my TripAdvisor page (Search DaveTheTraveler7).   For the most part, I will refer to people by their initials – I want express my gratitude for what they've done for me, and I also want to respect their online privacy.  If you see your initials and want FULL attribution, tell me and I'll be happy to update with your full names!
2014
July 23 – Los Angeles
supposed to fly to Tokyo, made it as far as LA. Stayed with good, very supportive friends M and J, overnight in LA, taking a Super Shuttle from LAX to their place near Pasadena.
July 24 – Fly to Tokyo
actually flew to Tokyo out of LA. Sat next to a fun couple from Orange County who THOUGHT they were going to Australia but when they arrived at the airport discovered that they didn't have a tourist visa for Australia. So they quickly looked around for somewhere else to go that did NOT require a visa, and chose Japan. I love that spirit!
July 25 – Tokyo
Was met at Narita airport by S and her friends from the states A and B. They were having a high school "reunion" of sorts, with S who is living in Japan with her family.   It was really nice having someone local meet me at the airport in Tokyo. I was sleep deprived and while I'm sure I COULD have figured something out, she made it REALLY REALLY easy.
Stayed At: S's house in Tokyo
July 26 – Tokyo
We four went out looking around! First we stowed my luggage at the Shibuya station, at the Hachiko exit named after the dog that came to that exist for 20 years after his master had died. Story here.   Then we went to the Meili Shrine, one of the biggest Shinto shrines in Japan. Beautiful grounds, huge gates, and impressive shrine. At the shrine I did the obligatory ablution outside the gate, then followed the recommended show of respect at the shrine. Bow twice, clap twice, and bow once more. Huge trees. Really nice as a park, not only as a shrine. Then we took in Takeshita Street, which was a narrow shopping district near Shibuya with very strange stuff. Retail stores had barkers, mostly girls who called out in eerie (for me) sing song voices, no idea what they were saying, but here's what it sounds like (example).  After that, we went looking for a festival at the station, but couldn't find it. At that point, S, A an B wanted to go to another festival for that night, but I wanted to make my way to the Capsule hotel across town and find the blasted thing before dark. So I made my way back to Shibuya station, collected by bags, and got on the Ginza subway and made my way to Ueno station. Without S, I was lost.   I had the address for the hotel, but since I chose not to get a SIM card for my smartphone I couldn't use GPS. Asked some nice officials where it was and all they could do was point in a general direction. There WAS a public free wifi in the Ueno station, but it wouldn't feed the signon screen to my smartphone, so I pulled out my laptop and that worked. I managed to get a general idea of where to go (streets weren't labeled in Google Maps very well, and those that were happened to be in Japanese).   So found it. More about the Capsule hotel in the blog post.   For dinner I wandered around until I found a Kirin City restaurant, ordered up beers, asked for an English menu, and managed to order a plate of sausages. Yum! Then went home, took a shower (the Capsule hotel was also a sauna, for men only). And went to sleep.
July 27 – Tokyo
got up early in my capsule, and caught the 7:33 Shinkhasen train to Hiroshima, to meet my friend C (who I had been introduced to through FB). Nice long 5 hour train ride, one transfer at Osaka. Lots of country side, rice fields, tightly packed homes. Went through a rain storm which was fun on the train, since it did NOT slow down. For breakfast I grabbed these ubiquitous rice/seaweed triangles I'd read about. No English, of course, so I have no idea what I was eating (each triangle is compacted rice, with some food in the middle. Then you take the sheet of dried seaweed provided and wrap it around the thing and eat it like a sandwich. 2 of 3 were edible.  Found my Coke Zero after much searching.
———————————————————————————————
私のブログへようこそ。私はあなたがそれをお楽しみください。
———————————————————————————————
July 27  – to Hiroshima
Stayed At: ANA Crown Plaza Hotel, Hiroshima
Met C. , a friend of a friend who I had been having nice online chats with for a month or two, at the Hiroshima train station. She's been in Japan 10 months teaching, first at Fukushima and now at Tokushima. From Colorado! We took a taxi to the ANA Crown Plaza hotel which I liked immediately because the staff was so friendly. My TripAdvisor review here.  It's just 2 blocks from the Peace Memorial Museum, and really convenient. After we got settled in, we went to Mosburger, the Japanese equivalent of McDonald's, I guess, although they have McDonalds here too. I had a bbq chicken sandwich. Eh. After that we walked to the Peace Memorial Museum and took the audio tour. Lots of people, mostly Japanese but maybe 15% nonAsian types. See blog entry for more on this tour.
After we toured the museum, we walked around the park eventually making our way to the A Bomb Dome. I really enjoyed seeing the park with C, because we ended up having a good conversation about what it meant to each of us.
That night, we roamed around the area southwest of the hotel, looking for a bar but it was harder than I thought it would be..lots of shops and restaurants, but no "just bar". We ended up back at our hotel at the rooftop beer restaurant where we cooked our own strips of meat on the hibachi at our table. Fun staff, cold beer. C. took a picture of us (here) and posted it on FB.
One of our servers, a perky young woman was bouncy and engaging, and even gave us origami peace cranes out of her own personal bag. She spoke okay English, so we chatted a bit. About 10 pm, my jet lag hit and I went catatonic, which C remarked upon. So I figured…bed time! End of day!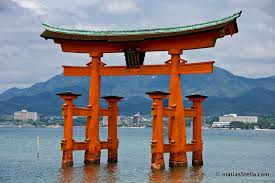 July 28 – Hiroshima
Got up early and took the subway to the Itsukushima Shinto Shrine.  This is the one with the "floating" shrine – it floats during high tide and doesn't when it's low tide.   Since it's tourist island, with many families and mostly walking, it reminded me of Mackinac Island in Michigan. Small deer just wandered around, sitting wherever, happy to be petted – and fed – and sometimes just a little big aggressive in digging into pockets.   A local food fav is the okonomiyaki. I really liked it because it was tasty and filling. Lots of different recipes, but evidently it's a Hiroshima speciality.   Mine seemed to be a "pancake" of noodles, egg, batter, pork and the main ingredient – cabbage.
That afternoon, C. had to go back to Tokushima to teach which left me up to my devices that night. Didn't do much. Wandered around the park at dusk and just sat in that place, imagining what it was like nearly 60 years ago to the day (bomb went off Aug 6, 1945).   Had dinner at a little dive, where I sat at a long counter, with the wall just about 2 feet in front of me. When I wanted attention from the server, I pressed a little bell that each seat had available. My customer number was C16. Ate a Japanese version of a Caeser salad (been missing my greens!) and a stir fried soba chicken dish. I'm really enjoying the different foods here. Same ingredients as else where (well, more seaweed) but very different flavors. Mostly liking what I have, but once in awhile I bite into something that does NOT belong there! And since it's all in Japanese (even the pork is just called "meat" in what English menus they have), I rarely know exactly what I'm chomping into. I feel my Andrew Zimmerman coming on…. Wandered around the nightclub section of town again, just taking in the views, stores, people, sights and smells.
Quick observation…very hot and humid, and during the days many people use umbrellas, especially women. They also wear elbow long gloves, big hats, and actually RUSH from A/C shelter to A/C shelter.
July 29 – Hiroshima to Kyoto
Had an 11am checkout, to catch a 12noon train to Kyoto so I woke up early to visit the Hiroshima National Peace Memorial Hall for the Atomic Bomb Victims which I came across last night as I was wandering around the Peace Memorial Park. It opened at 8:30am and I wanted to go early, before any crowds came, and I'm glad I did. Where the main Museum told the story of Hiroshima, A Bomb, and aftermath in factual detail, I found it relatively easy to be distant from it. But here, at this Memorial Hall, I couldn't. The stories told by the children and the quiet solemnity of the Hall, gave me access to a space that was much more spiritual. Here, I could finally feel the loss and horror and just plain sadness (I'm always a sucker for the pain of broken up families). There was a library with lots of materials that I wish I could have spent more time with. Still, this was an important part of the Hiroshima A Bomb visit for me.
Got back to my hotel and packed up, then made it to the Shinkansen train to Shin-Osaka where I transferred to a short train to Kyoto (15 minutes). I have made it a practice, when dealing with taxi drivers, to take pictures of my reservations on my phone and show them the address / phone number of where I'm going. If I relied on my Japanese, I wouldn't go anywhere. So I showed my new driver the address of the guest house I'm staying at, and he had to call the place to get directions. But he did it, and in 15 minutes I was at Sim's Place!. I found this through airbnb, and the price was right (about $65/night, no taxes). It's a a Japanese style guesthouse with futons on tatami floors. I like it. It's beastly hot outside, so it's nice to have both a room A/C AND a fan. Makes me very comfortable.
Once checked in, I managed to work through wifi messaging to meet up with S, A and B from Tokyo, who were in town on their own. I had left my flip flops at S's house so they were kind enough to bring them down and meet me for dinner. At another okonomiyaki place.   I had a nice meal with them, and then took a taxi home for the night.
One thing that surprises me a little is how healthy I'm feeling. I did NOT get the cold that I was expecting from my 11 hour flight, and – maybe it's because of the heat and lots of walking – but I'm feeling healthier than I did in the US. Breathing better too. Not sure what to make of it, but it's great!
July 30 –Kyoto
Stayed At: Sim's Place Guesthouse, Kyoto.
Met a doctor at my guesthouse, B. from Italy who just finished her residency in Germany and is taking a few months to travel around before starting work again. Very friendly and we talked about travel and what we've experienced so far. And about volunteering abroad.
I realized something yesterday. I was feeling a little odd, just traveling around, spending money, and not DOING anything. Then I remembered that this is the plan. That I was going to be a tourist until I got to Vietnam, and THEN start contributing again. It's not a workaholic thing, it's just that I really value contributing. I feel better when I am, and feel odd when I'm not. So, note to self, I'm SUPPOSED to just be a tourist now!
Another thing I've been doing is enjoying social media and texting with US friends. I don't have a SIM card for Japan, so I'm limited to wifi, which given the time difference, makes for narrow windows of time to chat. Still, I'm finding that Viber, Skype, WhatsApp and even FB Messenger work just fine, given a good wifi connection. And all for free!   Even keeping in touch with K, who'd traveling to Ireland with her family! It's global communication baby! I love my Samsung Galaxy phone!
Had a predictably hilarious time doing a Skype videoconference call with my mom. Everything was working well, except somehow she wasn't getting my audio feed. Turns out my parents voodoo magic with consumer electronics was at work – her sound was turned off in her Preferences. Good times! But still, videoconferencing works!
What else? Spent the morning doing logistics. Booking a room in Busan and Seoul for next week, booking train to Fukuoka, in southern Japan for my ferry ride across to Busan Saturday afternoon. Booked the ferry ride with the help of Maki, my innkeeper, because everything was in Japanese. Managed to book the trip for $130 one way, trip should take about 2.5 hours.   Then I bought a 2 day Kyoto bus pass so I could visit a bunch of temples around town $10 a day is better than $12 per taxi ride. Plus the buses are really good, once you can figure out the Kyoto Route Map!
This afternoon, I visited the Ryoanji Temple in NW Kyoto. I have had a wallpaper of the Ryoanji rock garden on my computer for several years now, I just liked how peaceful it is, and it helps me calm my A.D.D. impulses down as I work on my laptop. But I never knew where it came from. Then this spring one of my students, C, told me it was the Ryoanji Temple here in Kyoto, and so I HAD to come visit.  I take a bus waaaaay out there, fortunately, turns out to be the RIGHT bus, and I get off at the RIGHT exit. Win!
So I walk slowly along the paths through these amazing and deeply powerful gardens, on the way to the temple and the rock garden.  Feeling myself slow down with almost every step. Getting calmer and more present. Odd and palpable. But very welcome since I've been running constantly since I arrived (with the exception of the Hiroshima Memorial Hall).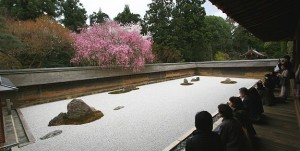 When I'm done, I take the 59 all the way to Shijo-Keihan-mae station, downtown, and wander through the Gion district, which is the old geisha district, and where Kabuki theater was started. I'm bummed I can't find a Kabuki theater show that isn't sold out. Grr… Still, it was fun watching all the girls, and a few guys, walking around in summer kimonos. I learned in Hiroshima, that Kyoto, and a few other cities, were spared bombing during the end of the war, so that the effects of the A Bomb would be starkly clear.   Hiroshima and Nagasaki were on that list. So Kyoto kind of escaped all the destructive bombing, which means all of these old Kyoto districts are largely intact (with some inevitable upgrading and renovations). Feels very different from Hiroshima.
Okay, burned out. Gonna stop this one now. I'll be more funner in my writing, with more pictures, in the future!
July 31 – Kyoto
Start the day off by making reservations for my train to Fukuoka, my ferry to Busan, and my hotel in Busan. Maki, my friendly innkeeper at Sim's Cozy House, helped me with the ferry site, because it was only in Japanese. Have lunch in a random restaurant in the Kyoto Station, which is really a train station / shopping mall combo. It was a tasty spicy chicken soba soup, pretty hot. And a salad, although I'm having trouble getting my greens!!! After that, I took a bus up to the Gion stop, and walked over to the Starbucks along the River (coordinates), where I worked on my blog for a couple hours in the nice A/C. Around 2 I took the 100 bus up to the Ginkakuji Buddhist temple and wandered around there for awhile. Then walked in a circuituous ambling route through neighborhoods, where I saw no tourists at all, until I happened across an entrance to the Yoshida Shrine (see blog entry for that). Then I wandered some more in a general southwesterly direction, past a few emperors's mausaleums, aiming to end up at the (M/I) intersection where I could take a bus somewhere, maybe back to the guest house. Instead, I was really hot and tired, my feet were hurting a bit, I was chafing a bit, and came upon a door that had a sign that said "Paulaner Beer". One thing about Japanese restaurants and bars – there are no windows, and to me they all seem closed. And some of them are. No "Open" signs, that I could see. But I decided to give it a shot and step up to the door and open into a sorta English pub dive bar, named Sheep's Public Cafe. One old guy drinking a beer at the bar, smoking, the TV showing Japanese soccer, and two young guys ready to serve. They looked at me curiously, which seems to be the norm around here when I step into a nontourist place. But the one working the front offered me a table and an English menu, and beer and nuts were ordered. It was cool and dark, and quiet, and even had open wifi, so I was happy after a long day walking the hot streets of Kyoto.
Feeling refreshed, I went back out into the dusk where the sun had dropped and the heat was abating. Walked back to my place, and took a cold shower.
——-
Time for an equipment report! It's been hot and humid, so I've really appreciated my cool clothing. The R&R slacks, Old Navy shorts, and REI cargo convertibles are good. The R&R button down shirt is better than t shirts because it breathes and leave the neck open. Love my Wrightsmith Socks and Teva shoes. I thought they would be too hot, but really comfortable and supportive, and the combo makes me feel okay in the foot department. I could use a hat, which I left in my car. The sunscreen here seems to have menthol or something in it (I've tried two types) and it's kinda stingy. My $25 quick drying briefs are not comfortable. I don't like briefs, and I should have known they would lead to some chafing. I'm in the market for new underwear!  (Um, TMI?)
August 1 – Kyoto
Took the Walk in Kyoto, Talk in English walking tour 3-4km over 5 hours. Tour guide was Mie, and I can highly recommend it.  She took us to the Biggest Buddhist temple in Japan, and gave us a very nice historical explanation of how Buddhism and Shintoism came to coexist here. We also visited and learned about some artisans: a 17th generation Buddhist rosary maker, fan maker, potter, bean curd maker, sweets shop, and a community center serving, well everyone…seniors, disabled, youth, and anyone else. I really enjoyed this part, getting to the inside of these lives without annoying people.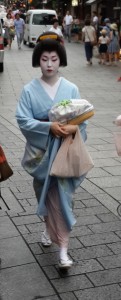 Went home after that and cooled off. Then I plotted to go to a geisha show, but was thwarted. I went to the building I'd been told about, and I SAW geishas in full costume going in and out of the door, but the doorman shooed me away when I approached and asked where was the show. I'm still not sure where it is. But when the geisha fully dressed made an appearance, it was like rock stars and paparazzi. Everyone clustered around them taking pictures like rabid fans. I joined in! Here's what I managed to get.
Disgruntled because I couldn't find the geisha show, I wanted the Gion district, and went into another doorway that I hoped was a restaurant, and hoped was open. I got lucky, and it was both. For dinner I ordered a chicken salad and a fish omelette. Both were yummy. I elected NOT to choose the "beef gristle", "H-bone of cow rump" and other similarly described dishes.
Got home and was packing when I got an email telling me that Typhoon 12 had made it necessary to cancel tomorrow's JR BEETLE ferry ride to Korea, for 3 days. Had to scramble and decide what I wanted to do. Should I stay in Kyoto until the storm passed ? But then my Japan Railpass would expire and I'd have to pay full price for a train ticket to Fukuoka. Should I just go to Fukuoka and wait there? Well, there weren't any hotels listed within 30 km of the harbor that was less than $250/night. I decided to get ahead of the storm, and booked a flight from Osaka to Seoul for the next day, and cancel all my boat/train plans. Not thrilled, but it seems like the best solution given timing/cost considerations. More time than I expected to spend in Seoul, not sure there is as much to see as there is in Kyoto / Japan. But this will give me some time to focus on writing, and starting my plans to make money online. My airbnb in Kyoto was $65/night. In Seoul it's $38/night. Cheaper too. ☺
So I'm taking the Kansai Express, direct from Kyoto Station to the Osaka-Kansai airport. The train is covered by my Japan Rail Pass (last day!), so all in all – it's probably a wash, cost wise, versus my original plans for the ferry and train across Korea.
August 2 –Seoul
First day in Seoul!  I'm staying with Mely and Keegan, who rent out a couple rooms in their Itaewon neighborhood through airbnb.  Keegan is from Southern California, teaching English here, and Mely is from Indonesia.  She also worked in Concord California for a year through a worker program.  They have a DELIGHTFUL 10 month old daughter. So it's nice to be in a place with such a fun family, who speaks English.   It took me about an hour and half to get from Incheon Airport to our meeting place at the Hamilton Hotel (I'm really reliant on wifi here to communicate with everyone, since I haven't yet bought  SIM card for my phone – I will in China).  Fortunately, all of Seoul seems highly wired so finding strong open wifi networks has been really easy.)
Itaewon is weird.  It's the part of Seoul that built up to support the Yongsan US Army Base, which is right ….over there.  So it's full of shops and restaurants, all NOT Korean.  Nike, Starbucks, KFC, Taco Bell, North Face…plus lots of restaurants from every cuisine except Korean:  Greek, Bulgarian, Italian, Mexican, German, American BBQ… etc.
One thing I've noticed, both here and in Japan, is that getting around without knowing the language is MUCH harder than in Peru or Germany.
Stayed At:  Airbnb Home with Mely!, Itaewon, Seoul, S. Korea.
August 5  –  So Byungtae and Veronica (permission granted to use their names!) took me out to a wonderful 10 course, 3 hour meal at Woonsan in Seoul.   I can't possibly tell you what I ate, but it was ALL amazing and it kept coming – it was all I could do to move along.   We had a great time catching up, having not really talked in 10 years, we decided.  Byungtae and I joined the Univ Arizona MIS Department at the same time.  When he left to go to Univ Illinois – Chicago Circle, then back to Korea at KAIST (Korean Academic Institute of Science and Technology), we lost touch.  But I knew he was there so as part of my prep for this trip I sent him an email, warning him of my impending visit, and he has turned out to be a great host.  Turns out he's kinda famous here too, in business writing!  Look ahead to Aug 9 to see how he almost killed me.
August 6 – Seoul
Today I just took it easy, moved from my airbnb room at Keegan and Mely's house (very nice hosts!) to Hotel Tong Vivace.   This was planned, since I wanted to experience living in two different parts of Seoul.  And it's been a big difference.  The first place was in Itaewon, which is basically an international village, lots of international cuisines and people – in fact it took awhile to find a restaurant that had bibimbop (see below).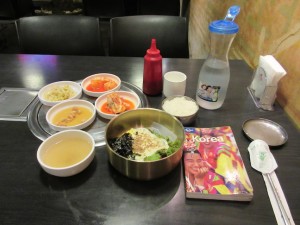 Stayed At:  Hotel Tong Vivace (my TripAdvisor review) is in the Dongdaemun neighborhood, which looks like this (pardon the sloppy formatting).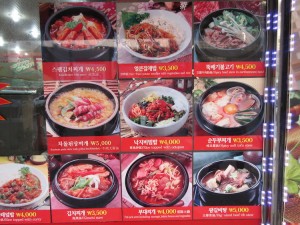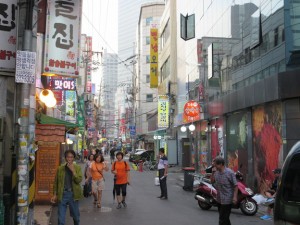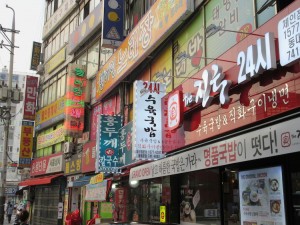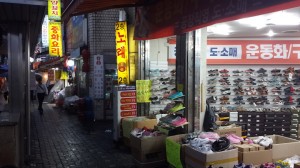 So I didn't do much except move in and find someone who could understand me a bit.  I walked into a likely looking place, with the food signs above, and looked the lady square in the eye and said "bibimbop and a beer!".  She brought me bibimbop and a coke.  No worries, I was feeding in a place that knew no English!  🙂
August 7 – Seoul
So I was feeling a bit sorry for myself, and starting to get grumpy about being lonely, about being functionally mute, and just about….being grumpy.  For some reason I had decided that I wanted to wing everything about this trip, and I've noticed that I am falling prey to all these stories about what I SHOULD be doing here.  Making lots of local friends, having amazing "insider" experiences, writing insightful blog entries, exercising, ramping up my online money making, getting wiser, whatever.   Two weeks in and I hadn't ACCOMPLISHED anything.   As if simply touring new countries and meeting new people and having new experiences isn't "accomplishing" anything.
So anyway, I decided that I was being stupid, and went ahead and signed up for two guided tours, through the local Army Base's USO office.  Who knew I, with no military connections, could use the USO?  Well, I did.  Signed up for the DMZ tour on Friday, and a Korean Village tour on Thursday.  Felt really good that I did it, because – the fact of the matter is – language DOES matter.  And I don't have the time in Japan or Korea, or China for that matter, to really take language classes. (I will be doing that in Vietnam, however).  So suck it up Dave, you speak English, and your German and Spanish are useless here!   Tours signed up for!
Celebrated my personal rebellion against what I SHOULD be doing, and did something I WANTED to do – had German bier and bratwurst at the Hirsch Cafe in Itaewon!
Aug 7 – Seoul
Took a tour of the recreated village from the Joseon dynasty about an hour south of Seoul.   TripAdvisor Review here.
Aug 8 – Seoul
Toured the DMZ.  We got right up to it, and I was struck by the fact that …..the conflict is still going on.  The museum in Seoul keeps a running tally of the incursions of the North Koreans, and…it's still going on.  There is a real concern that this border that you're looking at in the picture below, could actually be overrun by North Koreans at any time.  Part of the tour was to go into a tunnel,  35 KM LONG TUNNEL, that the North Koreans had dug from the North Korea border towards, and fully intending to reach, Seoul.  (Funny aside, after the South Koreans found, captured, and transformed the tunnel into a revenue producing tourist attraction, the North Koreans demanded a cut of the profits! After all, THEY built it!!).
Aug 9 – Seoul –
On Saturday, my friend Byungtae suggested we take a hike.  And I was up for it!  Little did I realize he was talking about hiking up a 1,500 hill.  Okay, I'm not in the best of shape, but I was game.  I was especially game because we were part way up when I realized it and I would have lost Much Face if I wimped out, right?  So I trekked on.  It turned out to be a beautiful hike, and the sweat from the hot humid climb was cooled pleasantly by the gusty winds once we reached the top.
Aug 10 – Flew to Beijing
I had no trouble getting into China, my visa was in order, the airport was really modern (remember the 2008 Olympics???) and the taxi was official and cheap ($15 to my hotel, fixed).   What struck me at first was (a) how many cars were on the road, it was like LA and it was a Sunday afternoon!  And (b) how many American cars I saw …  Buick, Fords, Chevys  Fun to see.
After checking into my room, I took a walk.  My first in "Communist China".  It was ….odd.  The path I took through a grassy, treed park lining the City Wall could have been anywhere in the US.
My second indication that I was not in Mao's China any more was how many shiny glass buildings there were.  I later learned that prior to the preparation for the 2008 Olympics, Beijing wasn't as shiny.  But it is now.  And it's shocking to someone like me who was living in the past.   Here's a sample of Before (on the right) and After (on the left).  Two very very different buildings, on the same street.
A beer at the Hotel was $14.  A beer at the nearby local chicken noodle soup restaurant:  $0.50.  I ate at the noodle soup restaurant.
Stayed At:  Beijing Marriott Hotel City Wall, Beijing.
Aug 11 – Beijing
ADid a meditation day in my hotel in Beijing.  Michelle and the rest of the China Spree tour group arrived later that night.
The following commentary (Aug 12-Aug 22) is mostly text from the China Spree tour program.  I'll add some of my own eventually.  And I'll – maybe – change the tense from future to past.  🙂
Aug 12 – Beijing
After a hearty breakfast and a tour briefing, we visited the Tiananmen Square. At 100 acres, it is the world's largest public square, flanked by an assortment of historical buildings, huge museums and Communist monuments, including Mao's Mausoleum. One visitor has written, "An army could be massed, and all the kites in the world could fly."  We roamed the Square; and walked through the Gate of Heavenly Peace, under the famed portrait of Chairman Mao, to enter the Forbidden City, the symbolic center of the Chinese universe and a lasting monument of dynastic China, from which 24 emperors of the Ming and the Qing Dynasties ruled the Middle Kingdom for nearly 500 years (1420-1911).
Completed in 1420, the Forbidden City, a UNESCO World Heritage Site, is the world's largest palace complex and China's most magnificent imperial architecture, consisting of many buildings with 9,999 rooms, on a 250-acre compound, protected by a 20-foot-wide moat and a 32-foot-high wall. Now known as the Palace Museum, the Forbidden City was the exclusive domain of the imperial court and dignitaries where outside visitors were forbidden for 5 centuries. Here you will explore the imperial treasures in the grand palaces and pavilions, exquisite courtyards and gardens in what was once the residence of China's rulers.
Took a rickshaw ride along Old Beijing's Hutongs (narrow ancient alleys) and discovered the sights and sounds of local Beijing life in these traditional Chinese neighborhoods.  Saw the locals as they went about their daily activities; and toured the maze-like alleyways and courtyard houses – before it's gone forever. Highlights included visits to a traditional courtyard home for lunch.
Had dinner at a famous restaurant that I can't remember the name of.  But we ate  a feast of Beijing Duck, cooked to crispy perfection.
Aug 13: Beijing
After breakfast, we took a drive to the northwest of (today very rainy) Beijing to visit the Sacred Way of Ming Tombs, regarded as China's finest example of imperial tomb architecture.  Situated in a peaceful valley, the site was chosen by the Ming emperors as their burial place for its auspicious Fengshui alignment—a ridge of mountains to the north cradles the tombs on three sides, opening to the south and protecting the dead from the evil spirits carried on the north wind. Here walked, wetly, along the elegant Sacred Way that leads to the tombs. Beginning with a grand marble gateway more than 400 years old, the long avenue is lined with 36 massive stone sculptures of officials, lions, elephants, camels and mythical beasts.
Had a lunch stop at a local jade workshop, and then afterwards, took a scenic drive through the countryside and mountains to reach China's most renowned monument—the Great Wall.  Since the Great Wall is the single greatest attraction of China travel, we went to the less-visited and more original Mutianyu section and so avoided other sections which are the most accessible and consequently the most crowded.  (This worked, we were, at times, alone on the wall!)
The wall was begun in the 5th century BC to keep out foreign invaders. Construction continued for centuries, eventually linking up the walls of the former independent kingdoms. The Great Wall meanders through China's northern mountain ranges from the Yellow Sea to the Gobi Desert—a distance of over 3500 miles! Chairman Mao once said "You haven't walked on the Wall, you haven't been a good Chinese".
And today, we not only visited the Great Wall, but experienced it in more ways than one—Learned some of the fascinating history and legend of this engineering marvel, rode a gondola up to the highest point for panoramic views of this ancient edifice, explored its impressive watchtowers, ramparts, carriageways at our own pace.  (We also learned that if you're not careful, you'll pay $3.50 for a bottle of Coke Zero.)
Aug 14  – Beijing-Xi'an
In the morning, we visited the Temple of Heaven, the largest temple complexes in China and a paradigm of Chinese architectural balance and symbolism.  One key element in China's architectural genius was the blending of the monumental with the delicate, and the Temple of Heaven is perhaps the finest expression of this mixing of near opposite.
During each winter solstice, the Ming and Qing emperors would perform rites and make sacrifices to Heaven praying for good harvest for their empire. The most striking edifice is the Hall of Prayer of Good Harvests, which according to the emperor's Fengshui masters, is the exact point where heaven and Earth met. Built in 1420 (without the use of a single nail), this masterpiece of Ming architecture, features triple eaves, dramatically carved marble balustrades, and gorgeous glazed azure roof that symbolizes the color of heaven. This 120-foot-high structure is fixed by four inner pillars represent the seasons, and two sets of 12 columns denote the months and the traditional Chinese division of a day.
Lunched at a local restaurant, (at this point who remembers the names of the restaurants??) and then tried to visit to the Giant Panda at Beijing Zoo.  Panda is officially considered a national treasure by Chinese government and is often used to cultivate relationships with other countries with panda diplomacy. This zoo offers a wonderful chance to get face-to-face with China's gentle giants. (Except, NOT. The crowds were too dense and the bears too rudely somnolent.  I did catch a glimpse of the hind end of one panda, though.)
Afterwards, we toured the idyllic Summer Palace, once the summer retreat and playground for the imperial family and royal court during the late Qing Dynasty.  Considered the finest Chinese imperial garden, the Summer Palace spans over 700 acres with breathtaking views, temples, pavilions, palaces and halls including the lavishly painted "Long Corridor".  It is most associated, however, with the Empress Dowager Cixi who paid for the extravagant Marble Boat with funds meant for the modernization of the Imperial Navy.  Weather permitting you take a dragon boat ride across the picturesque Kunming Lake. (Weather DID permit.)
Later, we flew to Xi'an to experience the historical side of our China trip. Located in the Yellow River Basin in China's heartland, Xi'an is one of the birthplaces of civilization. It has seen 3,100 years of development and 11 dynasties, giving it equal fame with Athens, Rome and Cairo as one of the four major ancient civilization capitals. Xi'an reached its peak during the Tang Dynasty at 10th century with a population of one million and is rich with cultural and historical significances.
Stayed At:  Sheraton X'ian North City, Xi'an.
Aug 15 – Xi'an
Today's excursion took us to modern China's greatest archaeological discovery—The Terra Cotta Warriors and Horses, which silently guarded the tomb of China's First Emperor for over 2,200 years. In 1974, a local farmer uncovered the first of three massive earth and timber vaults, while digging a well. (And we MET this local farmer, a dour man who signed my book with what I took to be some ennui.)
The extensive excavation, still in progress, has yielded over 6000 life-sized terra cotta warriors, each individually sculpted, with the physical characteristics of the humans they were modeled after. Archers, infantrymen, horses and bronze chariots have also been unearthed, but it's only a fraction of the total buried there to protect the tomb of the first Qin emperor. A Circle Vision documentary was available on site (like in EPCOT). Lunch at a local restaurant and saw a noodle making demonstration.
Witnessed a real rural life at a typical village in central China. We visited a Yao Dong (literally an arched tunnel)—a typical cave dwellings that stretches across six provinces in north central China. The Yao Dong is caves dug into mountainsides with a signature arched front. Usually, one family unit consists of three arched openings, and the units are interconnected inside. The center cave can be termed the living room, which includes a stovetop cooking area. The two side caves are sleeping quarters. Outside of the cities of this region, some 90% of the rural population used to live in yaodongs.
Tang Dynasty (AD 618-907), traditionally regarded as the golden age of China, was a time of patricians and intellectuals, Buddhist monks and Taoist priests, poetry and music, song and dance—a period of peace and exceptional creativity lasting 300 years. For dinner, we had a feast of culinary and cultural delights with a special Dumpling (dim sum) banquet followed by a fascinating Tang Dynasty stage show.  And we did indeed indulge ourselves in this remarkable show!  (Despite our apparently bitterly resentful server….)
Aug 16  – Xi'an – Guilin
In the morning, we toured the Wild Goose Pagoda, a Tang Dynasty landmark.  This seven-story pagoda was initially constructed in 652 AD to house the Buddhist sutras brought back from India by the monk, Xuan Zang, who later translated them into Chinese. His pilgrimage to India is immortalized in the Chinese classic—The Journey to the West.
Took a relaxing walk to the heart of the city to visit its fascinating Muslim quarter. In the center of Xi'an, visible everywhere from the surrounding city walls, are the city's two Ming Dynasty treasures—Bell and Drum Towers. Built in 1384, the Bell Tower, in which a great bell once rang at dawn, is a classic example of Ming architecture. It consists of a triple-eaved, two story wooden pavilion resting on a square brick platform nine meters high, pierced by four archways. Across the square from the Bell Tower is the rectangular Drum Tower, where a drum was beaten daily at sundown. First erected in 1380, the Drum Tower has become the gateway to Xian's old Muslim quarter and its historical mosque.
Founded in 742, the Great Mosque is the focus of the more than 30,000 Chinese Muslims (Hui) of Xi'an, whose beards and white caps distinguish them from Han Chinese. Stand in four beautiful courtyards of ancient trees, ornate arches and stone steles, the Mosque is the center of life for the Muslim community – the descendants of the merchants that ferried the religion into China along the ancient Silk Road. The backstreets surrounding the mosque is the charming Muslim Quarter hosting the city's most fascinating night market, with its winding streets, low houses, narrow lanes, excellent ethnic cuisine, and resident Hui community.  We toured the lovely and unusual area with bustling stalls and enjoy some of the best street food in China!  Except we didn't.  It looked….sketchy.
In the late afternoon, we flew to Guilin and indulged ourselves in China's most amazing natural landscapes. Guilin, literally means Osmanthus Forest, is celebrated for its picturesque karst limestone pinnacles and meandering Li River.  An old Chinese saying describes Guilin's landscape as the best scenery under heaven. Its misty limestone peaks rise as suddenly from the earth as trees in a forest, and surrounding the city like mountains floating in an imaginary sea.  Met our local representative and transfer to your hotel in the heart of the city. Our hotel was located on a riverside avenue of the sweet-scented cassia trees and overlooks the Li River.  It's a place for relaxation and also offers a perfect escapade after one week of group travel.
Stayed At:  Sheraton Hotel Guilin, Guilin.
Aug 17 – Guilin – Excursion to Dragon Spine Terraces
This part of the country encompasses China's most famous scenic landscapes. Before discovering the best treasures Guilin has to offer, we take an off-the-beaten-path hiking tour to Long Sheng's spectacular Dragon Spine Rice Terraces.
Over the centuries, the Zhuang and Yao minorities have sculpted 2,000 feet peaks with remarkable steplike terraces for growing rice in the hilly areas of Southwest China. This transformation over time has created landscapes of utility as well as immense beauty. In Spring, when the terraces are full of water, they resemble irregular silver ladders; and in autumn, when the rice ripens, the mountains turn into golden waves.
Visited the unique culture of local minorities and their villages where life has remained unchanged for thousands of years. We hiked between the villages following tiny stone paths carved out by the local people. This memorable journey is (apparently) rarely included in the conventional itinerary (because it requires CLIMBING UP 1200 STEPS!)
Aug 18  – Li River Cruise – Yangshuo
A beautiful day waited! After breakfast, we took a scenic ride through the countryside, passing lush green fields and rice paddies, to reach the Bamboo River pier, where we embarked on a memorable cruise down the picturesque Li River.  The 40-mile trip has countless twists and turns and the scenery is reminiscent of classical Chinese landscapes—bamboo groves, sleepy villages, fishermen on bamboo rafts, cormorants, water buffalo, soaring karst pinnacles and mist shrouded peaks… our cruise concluded at Yangshuo, a rural town, amidst a haunting and surreal setting. (and an astonishing array of vendors looking to separate us from our money)
Aug 19  – Guilin – Shanghai
After breakfast, we flew to cosmopolitan Shanghai, China's vibrant financial and artistic center.  Shanghai, literally means "above the sea", is China's largest and most dynamic city, with a population of 23 million. In the 13th century it became a minor county seat and so it remained until the mid-19th century when British commercial ambitions led to war with China.  The ensuing Treaty of Nanking allowed the British to trade freely from certain ports including Shanghai.  The city soon became an outpost of glamour, high living, and ultimately decadence. In the 1930s, Shanghai was renowned as "the Pearl of the East".
Upon arrival, we met our local guide and transferred to our hotel.
Stayed At:  Renaissance Marriott, Shanghai.   Very nice Western style Hotel.
Aug 20  – Shanghai
Some places are forever associated with a single landmark and in the case of Shanghai it is surely the Bund.  After breakfast, (because it was raining, we went to the Shanghai Museum, which I really enjoyed. Lots of beautiful Chinese works of art.  I especially liked the paintings. But there was something for everyone, including a display of native costume feature the Fish Skin Suit!). The museum is a unique and inspiring piece of architecture, home to more than 120,000 cultural relics of ancient China, including a priceless collection of jade, bronze, ceramics, paintings, furniture, etc.  Later we took a leisurely walk along the waterfront promenade of the Bund. The Bund was at the heart of colonial shanghai, flanked on one side by the Huangpu River and on the other by the hotels, banks, offices, and clubs that were the grandiose symbols of western commercial power. See the ships and barges on the Huangpu River, en route to the sea or going upstream to the interior of China.
In 1949, the Communists took over and Shanghai was stripped of its grandeur. In 1990, the Pudong area across the river from the Bund was declared as a special economic zone, and a revival started for the city. Today we took a trip to futurist Pudong New Developing Area.  Transformed from once fertile farmland, this new area is rapidly becoming the symbol of modern China with its clusters of shinning metal and glass skyscrapers of world class hotels, international financial institutions, and commercial centers towered above the Huangpu River. Later we visited the 88th floor of the Jinmao Tower, the third tallest building in China. At 1,380 feet, it is the world's fifth tallest building, as well as home to the world's tallest hotel – the Grand Hyatt Shanghai. From its lofty platform, you enjoy a stunning view of Shanghai. (well, not so much.  Rain and heavy clouds at that altitude!)
After dinner, we attended an unforgettable performance of the Shanghai Acrobats. (It was!)
Aug 21  –  Suzhou & Tongli
In the morning we traveled by motor-coach to Suzhou, which is often referred, by the Chinese, as the "Venice of the East". Suzhou is a 2,500-year-old city renowned the world over for its traditional gardens, ancient canals and silk production. In 1997 Suzhou's classic garden was designated an UNESCO World Heritage Site.
The construction of the Grand Canal in the 7th century created a means whereby silk, the prized commodity from this region could be transported to the Northern capital, Beijing, a distance of over 600 miles. With prosperity came prestige as merchants and artisans plied their trade. During the Ming Dynasty (1368-1644), Suzhou flourished as a place of refinement, drawing an influx of scholars and merchants, who built themselves numerous elegant gardens.
The Chinese garden developed as a synthesis of two concepts linked in Taoist philosophy – scenery and serenity: the contemplation of nature in isolated meditation led to enlightenment. Therefore, the educated and wealthy built natural-looking retreats for themselves with an urban environment. The garden creates poetic and painterly concepts, and aims to improve on nature in creating a picture that looks natural but is in fact entirely artificial. For this the Chinese garden designer used four main elements: rocks, water, plants, and architecture.
We visited the Garden of the Master of Fishing Nets, and experienced all of the elements of a classical Chinese garden. It is said that the Master of the Nets Garden was named after one of its owners – a retired official who wished to become an accomplished fisherman. Dating to 1140, it is considered by many, the finest of all Suzhou's gardens. Although exceptional small, it succeeds, with great subtlety, in introducing every element considered crucial to the classical Chinese garden. It includes a central lake, discreet connecting corridors, pavilions with miniature courtyards, screens, delicate latticework, and above all, points which "frame a view", as if looking at a perfectly balanced photograph. The best known building is the "Pavilion for Watching the Moon", from where the moon can be viewed in a mirror, in the water, and in the sky – which we did NOT see because we went in the middle of the DAY!
Later, we toured the Silk Spinning Mill, where we learned how silk is created from the mulberry munching silkworms to produce thread and fine cloth. Afterwards, we traveled to Tongli, a pretty little water town typical of the region. Tongli gives visitors a good idea of what Suzhou must have been like in its heyday. Reminiscent of scenes from traditional Chinese paintings, it is complete with canals, arched stone bridges, cobbled lanes, and tile-roofed wooden houses. We visited a courtyard mansion to learn about the lavish life style of its residents. Then, we took an exciting ride on a gondola and experienced the charm of Tongli's waterways.
(This is the end of the China Spree Tour Program)
Aug 22  – Shanghai
On our own! Michelle and I wandered around downtown, and with my stellar direction finding skills, got lost. Ended up winding through a "developing" section of town, where a Rolls Royce was parked next to a gleaming gated tower, and down the street were people living in cardboard boxes.
Later we walked up the Bund, eventually stopping right at the Russian Embassy. Caught a taxi to the French Concession, a neighborhood of tree lined streets and a mix of western style homes and local businesses. Among other treats, we found a great bar called The Apartment. Excellent roof top patio, seems to cater to Western expats.
Aug 23 – Shanghai
Very sadly, Michelle and the rest of our tour left the next morning, very early to fly back to the US.  It was really sad to see them go. And VERY weird to be in the hotel and at breakfast without this merry band of new friends that I had been with constantly for 2 weeks.  I felt odd.  I felt even more odd as I checked out of the very Western and luxurious Renaissance hotel, and made my way to a student backpackers hostel in a sketchy part of town.  Talk about a BIIIIIG drop in experience!  Still, it was comfortable student  backpackers hostel, exactly as I expected.  Back to my solo trip!
Stayed At:  City Central International Hostel, Shanghai.  BIIIIIIG drop down from the Renaissance, but nice enough.  Cheap for private room!
 Aug 27:  Hong Kong
Stayed At:  innspirit guesthouse, Kowloon.  Very nice once you're in the guesthouse, sketchy building and hallway.  VERY small rooms.  But affordable in Hong Kong, great location.
Aug 31:  to Hanoi
Stayed At:  Rising Dragon Villa, Hanoi.  Good!  In Old Quarter.
Sep 1:  Hanoi – toured 
Sep 2:  Hanoi
Sep 3:  Hanoi
Sep 4:  Fly to DaNang
Sep 5:  DaNang – went on an outreach project a bit north east of DaNang.  Watched the staff set up a portable dental clinic in a school room, and then helped (a very small bit) as they provided dental care to 56 kids in a mer 4 hours.  My role was entertaining the worried kids (ages 5-7) as they waited their turn.
Sep 6 – Oct 17:  DaNang
Stayed At: Duc Anh Hotel, DaNang. Good! Great views of the Ocean.
Oct 17: overnight train to Ho Chi Minh City
Oct 18:  HCMC – wandered around downtown HCMC, went to the "War Remnants" museum.   Went to the A O Show with McNeil and Joey.
Stayed At:  Saigon River Boutique Hotel, Ho Chi Minh City.  Good, rooms pretty small. Get one with a window!
Oct 19:  HCMC – toured the Cu Chi tunnels and Cai Dao religious center.
Oct 20: HCMC –  toured the Mekong River
Oct 21:  bus to Phnom Penh, Cambodia
Oct 22:  Phnon Penh.   –  toured the Killing Fields memorial, and S21 interrogation center, as well as the much needed peaceful Phnom Wat.
Stayed At:  Indochine 2 Hotel, Phnom Penh.   Might try another place.
Oct 23:  bus to Siem Reap.
Stayed At:  Golden Dynasty Hotel, Siem Reap.  Good!
Oct 24: Angkor Wat.  Day 1
Oct 25: Angkor Wat,  Day 2.
Oct 26:  bus to Bangkok
Oct 27-29:  Bangkok – just chilled, wrote, rested, read.
Stayed At:  Aspen Suites Hotel, Bangkok.   Good!
Oct 30: Bangkok – toured downtown Bangkok in a tuktuk
Oct 31:  took 12 hour train to Chiang Mai