First off, for those who have faint memories of this song.  Bali Hai means "Helloooooo Bali!". (Hai in Balinese means hello. ☺ ) Might want to play it while you're reading this post.
I've had some requests to reconnoiter Bali, for future visitors, and so what follows is more of a TripAdvisor sort of thing, than usual. Maybe you too will come to Bali!!! (I promise I'm trying to ween myself off exclamation marks.) You will land at Denpasar Airport (DPS), which is the main international airport on Bali Island. Officially known as Ngurah Rai International Airport, named after the leader of the Puputan ("fight to the death") where locals rebelled against Dutch colonial rule. Every single one of the Balinese fighters died in this 1946 battle (story here  and here).  You will have to choose where to go first, and…well…I went to Seminyak (just north of the airport).
Accommodations. On the solid advice of friend Mark, I aimed at Seminyak rather than Kuta, and found a place on airbnb.com with Marlen, a friendly innkeeper.  However, after a couple days at her first property, I moved to her second one because it was loads nicer.  (My review is here.)  If you can afford $50/night, definitely go to her nicer place. If you want to pay $25/night, for much less comfort but still safe, go for the modest place.  Marlen manages both, and both are in the same neighborhood, about 5-10 minutes to a beach, depending on if you get lost or not. If you don't like these, or they are not available, you should have no trouble finding accomodations. Unless you're willing to pay top dollar, don't expect to be ON the beach in Seminyak. If you can, try the W Hotel, which looks very nice indeed and good views of the ocean.
Transportation. When flying to a new country, I like to get met at the airport by a friendly local smile. So before I flew to Bali, I asked Marlen to arrange for an airport pick up, and she sent Ketut, an English speaking local who came with the desired smile. He has a nice Toyota miniSUV, with A/C, and I am happy to recommend him for your taxi needs. I hired him for 5 rides. Just text or call him at 0813-3844-5438.  He charged 150,000 Rp / $11, no tip, for the 30 minute trip from the airport to Marlen's; and later he charged 300,000 Rp / $24 for the 1 hour trip from Sanur to Ubed, to give you an idea. (While we're at it, the one way taxi ride from Ubud to relatively far off the beaten trail Permuteran on the north shore was 600,000 Rp / $48. Buses….not so practical.) Marlen also arranged to have a motorbike rental delivered to my place, which I bargained down to 320,000 / $25 / week, no tax. A nice little 125cc Honda job (Bali Jaya Tours, 0819-3304-2826 or info@balijayatours.com. In Seminyak.)
I like Marlen! She's a good resource for getting settled in (taxis, motorbikes, SIM cards, clubs, restaurants, etc.), and a delight to hang out with.
Communications. If you have an unlocked smartphone, buy a SIM Card (or, if not, arrange for international coverage from your carrier). With Marlen's help, I bought a Telkomsel SIM card for about $8, topped it another $8 for a "mostly data" plan and it lasted my whole 3 weeks here. Guy at store (well, roadside hut) popped it in for me, worked his magic fingers on my phone and handed me a card with my working Indonesian phone number on it. I found that I need cell network coverage because wifi hotspots are spottier and much less available than ubiquitous cell coverage. And GPS works better too. I did lots of texting, some photo uploads to FB, and that was all I needed. Coverage worked all over the island, and even on Lembongan island. I also found that internet in Indonesia is not that great. S  L  O  W, and cuts out regularly. Especially in rooms or bungalows.  So I've relied on cell coverage for most of my internet access needs when the internet wasn't working. (Curiously, wifi signals that I could find within a hotel or restaurant were uniformly strong, it's just the internet connection that sucked.)
Clubs and Restaurants
I'm not a big "go outer", especially because night clubs are awkward alone and I like to eat cheaply on this trip. However, I did get out to a few places.
Potato Head Beach Club.  If you're in Seminyak, or even Kuta, and want a Western style beach experience that's not over the top tourist/drunken, then I highly recommend the Potato Head Beach Club. It's free to get in, and opens at 11am. If you want one of the seaside 2-4 person "beds" with umbrellas, get their close to that. Otherwise, it's never more than a short wait for a nice table, and there are plenty of other places to sit. For merely the cost of a beer, you will receive a fabulous view of the ocean, a big clean pool, hot tub, cool green grass, tasty cuisine, music (popular not "island", although a reggae mix does sneak in periodically), and access to a well kept beach. The staff are extraordinarily friendly and perky. Potato Head caters to English speaking tourists, lots of Aussies, but some East Asians too. Not many Americans.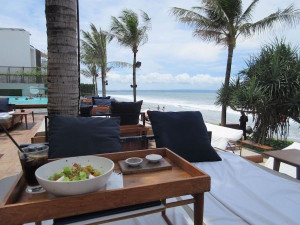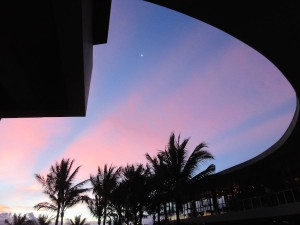 The staff was surprisingly surprised that I was American. As proof of the staff's coolness….The manager stopped by my table for a chat, and I told her what I was up to. We talked for maybe 15 minutes. Then, after dinner, this showed up unannounced:
I like Potato Head!
Ku De Ta  This is another beach club in Seminyak, but I just didn't like it. No pool, small outside compare to Potato Head. On the other hand Ku De Ta has a much bigger indoor dining area, so maybe that's the draw. I preferred Potato Head. Newer, shiner, and more outdoors!
La Plancha   Marlen recommended La Plancha for sunset dinner, so off I motored, searching for La Plancha. Eventually, with the help of my GPS and a few questions asked of folks along the way that resulted in lots of arm waving in the direction of "back thattaway", I found it. Turns out you need to drive to the very west end of Jl. Camplung Tanduk (that's a street). In front of you, westward ho, you'll see the Indian Ocean. To the left, you'll see a nice looking restaurant called Chez Gado Gado (more on this in a moment). Between Chez Gado Gado and the ocean, you'll see a path. This is not a path. This is a road. Turn left (south) and keep driving (cars not so much recommended, motorbike is best). Keep looking on the right and about 300 meters down and you'll find La Plancha. As you park your bike, some guy with a big grin will approach you as you park along the wall in the evening, and if you don't want to cause an incident, you'll hand him the 2,000 Rp / 18 cents) he requests, for parking. Feel good that you're supporting the local economy, I have no idea if he's official or not.
La Plancha is just one of many beach side shacks, but this one offers a special whimsy and bit of fun. Bean bag chairs!  Just find one among the many strewn across the beach, and plop down. Servers bring you drinks and food and you watch the sunset or surf while on BEAN BAG CHAIRS. Pretty cool. (I ate the Slider Sampler, and the ubiquitous Balinese beer, Bitnang. Yum!) Only downside – loud popular music (why don't they like island music here???).
If you want the same view and are in the same place, but want real tables and chairs up off the beach, then Chez Gado Gado  is a good choice. Very nice.
And then I stopped at some random places that just looked good at the moment: "Bestest Café" (Greek), Chat Café (Italian, but mostly a 24 hour coffee shop), Capil Beach Bar & Grill (on the beach near La Plancha, simple Indonesian fare), and a few more. If you want more info about these, ask! Although, you'll be just as well off discovering eateries on your own. Just wander, sniff, and enter.
Security Soldiers: Because of the terrorist attack in 2002, I think, every beach club or place frequented by tourists has a private security detail watching closely. I'm glad they were there, but did seem a bit overkill. For their part, the guards were all fun happy chill people, and did not add any sense of foreboding to the days activities at all.
Kuta
One word. Ugh. If you like Waikiki or Ft. Lauderdale, then you'll like Kuta. If you don't, just….don't go there. It's just NOT the Bali of my dreams. More dystopian, sadly.  There is no reason to go there at all. Just. Don't. Go. I did, because I couldn't believe that Bali wasn't uniformly romantic and mythical. Crowded with tourists and hundreds of businesses trying to make money off tourists, international chains like Hard Rock Hotel try to recreate within their walls what Bali should be outside the walls, traffic cops looking to shake down foreigners, beaches that had black water and plastic crap strewn about the surf and beach, endless vendors (albeit friendly and earnest, they have to earn a living somehow) approaching you insisting you buy something…. Just don't. If you insist on going to Kuta, look elsewhere for tips. I fled.
The Shake Down. I fled, but not before getting nailed by the aforementioned traffic cop. As I'm leaving Kuta, The Heat struck. He drove up along side me, leaned into me a bit, and pointed to the side.  Clear sign to pulls over.
Being a newbie, I did as I was told.  Traffic Cop  saunters up to me, asks for my International Drivers Permit, which of course I do not have. He makes me pull out the motorbike contract and sure enough, the first thing on the contract is "You must have an International Drivers Permit". Fine. I don't have it. I plead ignorance, which is my default play, and works disturbingly often, but he's having none of it. "You need to go to the police station and pay 600,000 rupiah fine." (pause) "Or do you want to take care of it here, for 400,000?" So I paid the $32 "convenience fee" and was on my way. Not being one to take such effrontery lying down, I whined about it to the locals I met, with indignation. They schooled me on several ways to do it better next time.
You should not carry more than 50,000 – 100,000 Rp in your wallet because he's gonna ask to see what you have. I have a money belt, and that's where the balance should be (I had JUST gone to the ATM).
Regardless of how much you have, it's okay to haggle over the bribe. As long as the smiles keep coming, go for it. He has NO interest in you actually going to the police station to pay the 600,000 fine.
Once you reach an agreement, feel free to short change him. A little bit. Put some money in your hand and shake his hand with it. Keep eye contact while you're putting on your helmet, keep him talking and not looking at his hand. The chances of him driving after you for a bribe are small.
If you're driving into a "net", where several cops on the side of the road are waving tourists over, just keep driving and pretend not to see them. The chances of them chasing after you when there are many more suckers coming right behind you are small.
Above all, do NOT take main roads where it's easy for them to pull you over without disrupting traffic. Take the side streets where there is NO room, and people are driving up on the sidewalk to get around vehicles.
It probably doesn't matter if you have an International Drivers Permit or not anyway. You've probably broken a dozen laws you don't know about, just by being there, so they can pull any idea out (such as "people over 6 feet tall have to slow down when they drive past a Mini Mart", or something). They just want an easy way to supplement their meager income, which is hard to find fault with.
Still, motorscooters. Rent one, they're fun! And really they're the only way to get around, by any measure, unless you have a family or are hauling luggage. With a good motorscooter and a good smartphone GPS, there's no where you can't go in Bali. Oh, and drive on the left side of the road.
Quick note: Cash is king for everything. Some restaurants and most hotels will take your credit card, but this will make them grumpy. And they will add 2-3% to your bill to pass on the credit card service fee. On the plus side, they don't expect a tip, and tax is buried in the published price, so you're still ahead. But…take cash. Don't bring it, just use your ATM card.